We were delighted to be awarded a Highly Commended in two categories at this years Cornwall Heritage Awards.
We had been nominated for  our afternoon entitled 'Mixing Memories' when we made Christmas puddings,  explored an objects loan box from the Royal Cornwall Museum, and remembered the fallen in a small act of remembrance.
We were highly commended in the Well-being category and were very surprised to also be highly commended in the Spirit of the Awards category which recognises a commitment to excellence in heritage, environmental sustainability and inclusion.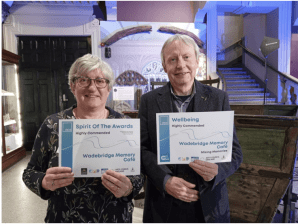 The photograph of Tim and Jan was taken by Kirsty who was an invitee to the Heritage Symposium and Awards representing our Network.
The awards were held at the Royal Cornwall Museum, Truro on 8th February 2023.  The Annual event is  organised by the Cornwall Museums Partnership.